Tonight: Beaters/Illuminauts/Atoms @ the Soda Bar
taken from sdcitybeat.com:
The small but potent Single Screen Records has played home to some of the more vigorous sounds coming out of San Diego in the past several years, releasing material by popular R&B punks The Sess, the Bowie-esque Red Feathers and the morbid folk of Vision of a Dying World. With a busy slate of new 7-inches scheduled for the near future, Single Screen shows what it has to offer at this showcase featuring the dystopian thump of Beaters, the broken instrumental hip-hop grooves of Illuminauts and the eccentric, soulful Charles Musket at Soda Bar.
Tomorrow night: Spirit Photography/Bulbs/Pretty Totally/Jeans Wilder/Mark Lewis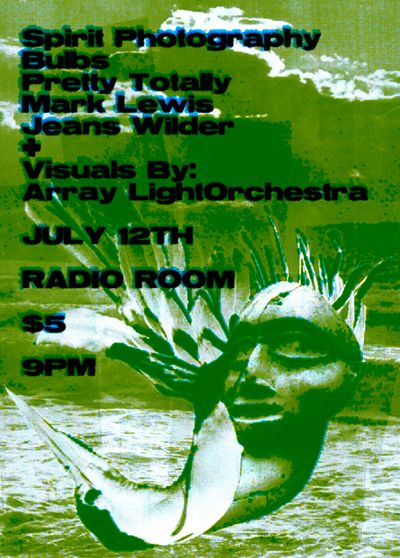 also taken from sdcitybeat.com:
Sunday, July 12
There's been some interesting noise recently seeping out of San Diego's underground recesses, and it can be easy to miss if you're not keeping your ears open. Here's the deal: Spirit Photography consists of two members of fellow local charmers Christmas Island (and a bassist), but their feedback looping techniques chart a more ominous path than the other band's innocent garage-pop. Meanwhile, Jeans Wilder is a one-man operation from an ex-Fantastic Magic member and current Heavy Hawaii associate who turns incredibly bad vibes into beautifully stoned slow jams, and Mark Lewis unceremoniously turns the room into a whirring, churning machine with improvised sounds more intriguing than the majority of guitar-bass-drums lineups in town. Considering that out-of-towners Bulbs (ex-Axolotl) and Pretty Totally hail from San Francisco's avant-noise hotbed, this one signals promise for you progressive types out there. At Radio Room.
Tuesday night: Mika Miko/Audacity/Beaters/Shannon and the Clams