So, we've been pretty excited about this one for a while.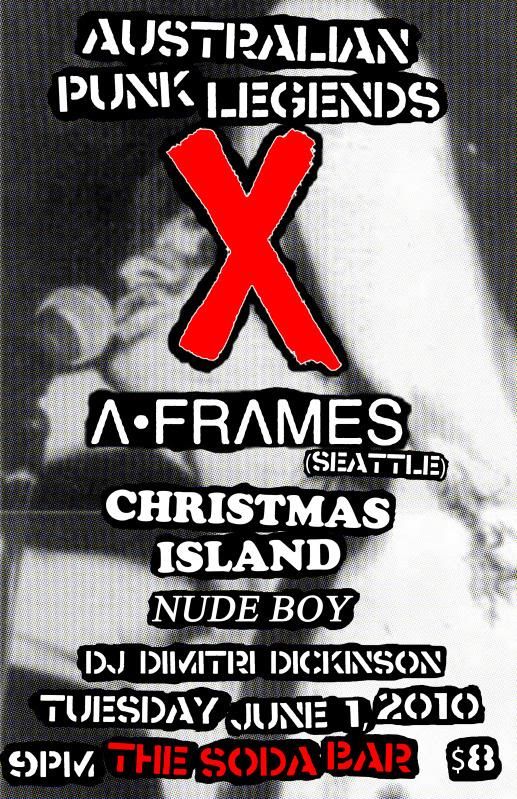 Taken from
allmusic.com
:
Biography by Brendan Swift
Hailing from Sydney, Australia, punk rockers X labored through a quintessential punk existence; banned from playing venues, harassed by the police, and suffering through several lineup changes -- including the untimely death of guitarist Ian Krahe -- they eventually achieved legendary status after years of performing. Formed by bassist Ian Rilen, who had left Rose Tattoo in 1977, X initially started life as Evil Rumours. Composed of vocalist Steve Lucas, guitarist Ian Krahe, and drummers Steve Cafiero and Eddie Fisher, they began playing Sydney punk rock hangouts before the unfortunate death of Krahe, who died in his sleep in May 1978. Only three demo tracks survive with Krahe's work which were later released on the 1985 Aberrant punk compilation Why March When You Can Riot? Geoff Holmes took up Krahe's duties only to be replaced by Peter Coutanche in early 1979. He left soon after, and the band, now a three-piece, released the single "I Don't Wanna Go Out" before the raw and aggressive X-Aspirations album in 1980. Coutanche rejoined the band, but by mid-1980, X had called it quits.
They reformed in mid-1983 with Rilen, Lucas, and Cafiero and released a cover of John Lennon's "Mother" in November 1984 before relocating to Melbourne where Cathy Green replaced Cafiero. In early 1985, X released their second album, At Home With You, a more polished affair than their first apocalyptic effort. The next five years saw the band's live reputation grow and they were often joined on stage by bluesman Chris Wilson. Their third single, a cover of Roy Orbison's "Dream Baby," was released in July 1987. Their third album, And More (1989), was dedicated to Steve Cafiero, who had died in December 1988. The group disbanded for a second time, but the X legend would not die and U.S. label Amphetamine Reptile released X-Aspirations to the North American market in 1993, spurring Rilen and Lucas to revive X with new drummer Stefan Berg. X continued playing on an irregular basis with Cathy Green and supported the Damned during their Australian tour in April 1997.
Enjoy one of the best punk songs EVER: