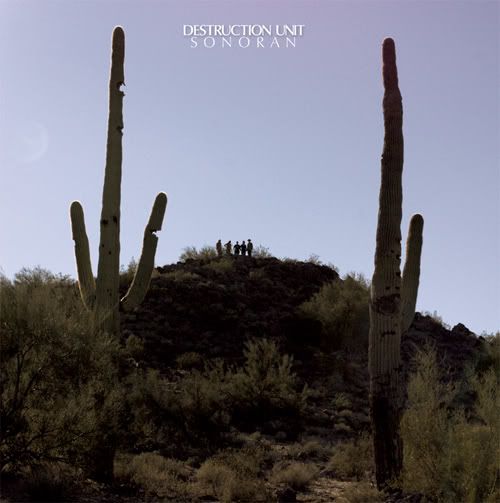 Destruction Unit—Sonora LP
In the punk-rock prime of his youth, Ryan Rousseau (aka Elvis Wong) saw himself cutting his teeth as the drummer for the Wongs, eventually hooking up with Jay Reatard to play in the Reatards, and dividing his time between the former band in Arizona and the latter in Memphis. Ryan soon recorded the first Destruction Unit 7", a blistering slab of synth-punk, which eventually led Ryan to Tuscon's drony, synth-heavy Digital Leather. Ryan in turn filled in from time to time on drums for Jay and Alix's Angry Angles, and eventually found himself recording two more LPs under the Destruction Unit moniker with help from Jay and Alicja starting up the southwestern punk act Tokyo Electron, and exploring his more melodic, post-punk roots with Earthmen and Strangers. After the death of Jay Reatard in early 2010, Ryan resurrected Destruction Unit, this time emphasizing more psych/kraut/desert rock influences on their first LP, Eclipse, in FDH Records. For their second LP, Sonoran, due out in April from Volar Records, the group has almost completely stripped away whatever synth-punk leanings they were holding on to, creating a purely "desert-at-night" psych/kraut/space-rock album best enjoyed on the long nightly drives through the barren wastelands of the Southwest.
100 on blue vinyl, 400 on black
Listen the album closer, "Death Tunnel."
(Via the
Volar Records Bandcamp
.)
Ryan wasted in Vegas w/Tokyo Electron
Earthmen and Strangers @ Gonerfest 6
The Reatards
Digital Leather
The Wongs
Some band from Kuala Lumpur also called the Wongs