So we've got our promo materials and final lineup ready for the viewing public. Last year was a blast, let's hope this year comes at least remotely close.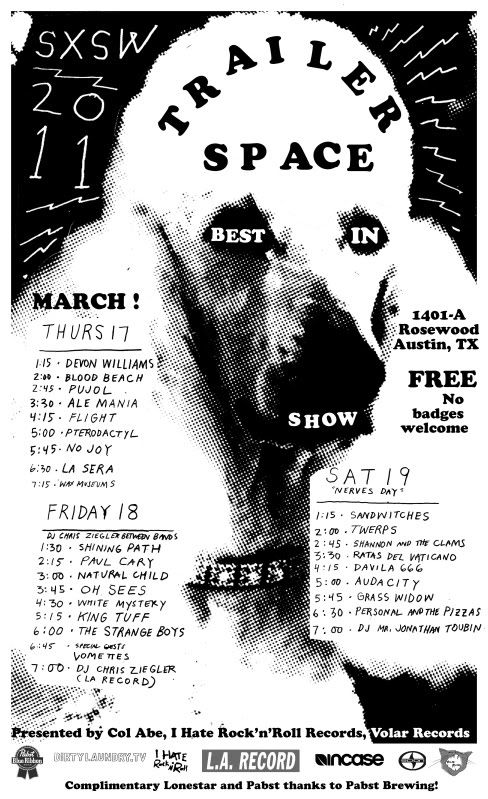 I put together this little video flyer here:
Here's the full line-up:
Thursday Mar 17
115-145 © Devon Williams
200-230 © Blood Beach
245-315 © Pujol
330-400 © Ale Mania
415-445 Flight?
500-530 © Pterodactyl
545-615 No Joy
630-700 La Sera
7:15-??? © Wax Museums
Fri Mar 18
© DJ Chris Ziegler between bands
130-200 © Shining Path
215-245 © Paul Cary
300-330 © Natural Child (PS)
345-415 © Oh Sees
430-500 © White Mystery
515-545 © King Tuff
600-630 © Strange Boys
645-700 © Vomettes
700-730 © DJ Chris Ziegler (LA RECORD)
Sat Mar 19 NERVES DAY
115-145 © Sandwitches
200-230 © Twerps
245-315 © Shannon and the Clams
330-400 © Ratas del Vaticano
415-445 © Audacity
515-545 © Davila 666
600-630 © Grass Widow
645-715 © Personal and the Pizzas
715-??? DJ Mr. Jonathan Toubin
Here's another flyer:
Here's a link to a recent interview I did for the
San Diego Reader
.
Here's a link to Ale Mania's stellar review in the
SD City Beat
:
ALE MANIA A, Who Sings That Beat?
A little more than a year ago, just about every indie fag worth his bespectacled salt (including myself) was creaming his pants over local garage heroes Beaters and their torrid single, "Fishage." The core duo of that group (Jeremy Rojas and Andrew Montoya) made a huge buzz with their previous band, The Sess, before splintering off into Beaters and Ale Mania around 2009. But while Beaters' "Fishage" made the rounds on the blogosphere faster than news of Thom Yorke's latest bowel movement, the Montoya-fronted Ale Mania's "Rampage," released around the same time, went ignored. The promise I saw in that bass-heavy blast of garage pop extends into Ale Mania's first full-length LP. The one-two experimental punch of "Submersed Space" and "United States of Abamonation" sounds like Cryptograms-era Deerhunter, while "LustFulFistFul" and "Tetherfree" manage to finally marry new-wave and no-wave, creating a highly danceable, almost goth-rock treat. A, Who Sings That Beat?'s greatest strength, however, is how well the group balances experimentalism with pop hooks. Similar bands often try too hard to escape their influences and end up sounding so different that they lose accessibility. It's been a long road for Ale Mania, but the result is a group of mature and gifted musicians who've finally created what we all knew they had in them: a masterpiece. myspace.com/wearealemania.
—Seth Combs