Lotsa stuff to cover that I haven't gotten around to yet.
First off, tomorrow is this badass triple record release show at the Soda Bar.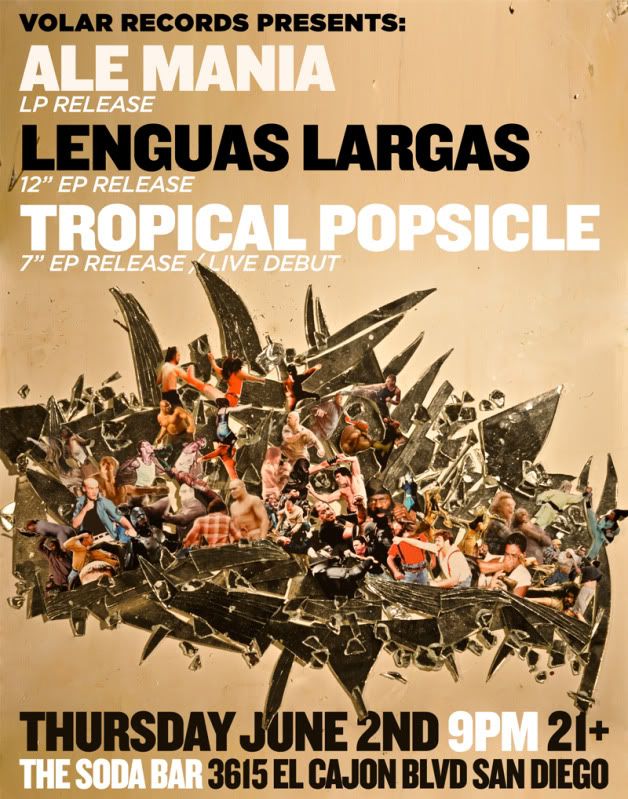 Second, I've got the Digital Leather LPs on hand finally, limited blue vinyl. Tomorrow I'll have the limited gold Ale Mania LPs, Dirt Dress 7"s, Pope Anything 7"s, Cold Pumas 7"s, and Lenguas Largas and Tropical Popsicle test presses. I'll be busy the next week or so sending out orders.
Third, Digital Leather's "Infinite Sun" has been getting a little bit of press. Links below.
"1000 Times" on Audio Milk.
"Blackness" on Said the Gramophone.
"1000 Times" track review on Let's Get Bent.
Third, August will see a few releases, including a Christmas Island 12", a Cowabunga Babes LP, the Beaters LP, and an Andrew Graham 7". Also, we'll (Christmas Island) be touring for a week with Cowabunga Babes in early August, playing the Pizza Fest in Seattle, SMMR BMMR in Portland, and Total Trash Fest in Oakland, with some shows in between.
Fourth, Beaters has three CA dates with the Obits and Disappears in San Diego, LA, and SF. Couldn't be more excited, considering my love for all things Rick Froberg (Drive Like Jehu, Hot Snakes, etc), Alexis Fleisig's (Girls Against Boys) inclusion on drums for the Obits, Sohrab Habibion's involvement in Edsel, Steve Shelley (from Sonic Youth) playing drums in Disappears...shit's gonna be a blast.
Fifth, September-ish will see an LP release by Uzi Rash, another LP (double-LP?) by Destruction Unit, a solo record by Ryan Wong from DU, and probably some other stuff I'm forgetting.
More news as it comes...