(photo by Marissa Parson)
(cover by
Jess Holzworth
, fashion designer, artist, photographer, and director of videos such as Beck's "Gamma Ray" and work for Rye Rye & Alia, among others.)
With the "Beach With No Footprints" 7"s arriving just in time for their trip to NYC to play a few shows for CMJ, the boys made their way to the big city yesterday after enjoying weeks of some nice online press, some of which you can find below.
TROPICAL POPSICLE--Beach With No Footprints by Volar Records
Before anything, here's some CMJ info: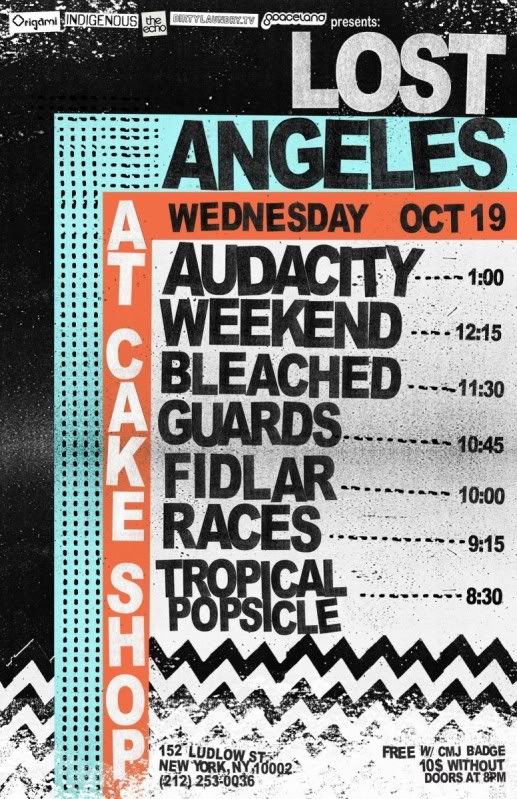 By way of
MP3.com
(with the 7" highlighted):
"Options will be endless all week long, but not on Wednesday night. INDIGENOUS Promotions, Origami Vinyl, The Echo/Spaceland, and Dirty Laundry TV to bring you Lost Angeles at the Cake Shop.
8:30 Tropical Popsicle
9:15 Races
10:00 Fidlar
10:45 Guards
11:30 Bleached
12:15 Weekend
1:00 Audacity
Lost Angeles has one of the strongest line ups of CMJ 2011 with a diverse batch of bands that range from surf rock to synth-saturated psychedelica to brutishly fun punk. If you want to experience the most promising acts LA has to offer indie rock, get off your blogroll and experience these bands live. Promise us you'll check them out, and we'll give you four free mp3s in return."
You can also catch them on the 20th at the Ding Dong Lounge and the 21st at Bruar Falls.
So here's a
nice review of the 7" from Agit Reader
:
Tropical Popsicle
"The Beach with No Footprints" b/w "Always Awake in Shadows"
Volar
Despite arriving with one of the worst names among indie rock in recent memory, San Diego's Tropical Popsicle still manages to set the controls to stun on their unassuming, yet potent, debut single. The burgeoning Volar label has proven to be the Captured Tracks of the West when it comes to issuing semi-unknown bands mining a similar pseudo-Mancunian minimalism, and Trop Pop (as I prefer to call the band) tends to obscure bubbling melodies under a shroud of summer bummer atmospherics. This is the solo work of Tim Hines, but Hines has recently acquired a trio to accompany him who will surely aid in creating a mood onstage whereby the oxygen is sucked from the room and the crowd mopes accordingly while hanging on every one of Hines' occultist fantasies. In "Beach With No Footprints," Hines speaks of the "beast who takes each breath," while his shaman moan on "Always Awake in Shadows" claims, "Your will is my command." Each breathy line becomes more convincing than the last. Both tracks balance syrup-thick organs and surfer rhythms brought to a slow-motion pant, an aesthetic that shows Trop Pop knows the existential wonder in their oceanic surroundings, but prefers to see it as existential dread on the dark side of the coastline. Not unlike the moody surprises from Clinic when that band first appeared or the shambling slouch psychedelics of the Crystal Stilts, Trop Pop is unique in sounding completely foreign even among the bevy of bands creating similar waves. What's not unique is their reliance on the beach for literal inspiration. That's a trend which should be going the way of the off-shore oil rig.
From
A New Band a Day
:
"Sounding like a lost 80′s synth power-pop hit slowed to 70% of its original speed, The Beach With No Footprints has the important knack of supplying just enough sound to keep the listener interested and from flipping onwards to another song.
We're rewarded with a song that is almost motorik in its relentlessness and insidiously burrows into your mind – and then leaves you with nothing at all. A magic trick to enjoy."
From one of my absolute favorites, the dear
20 Jazz Funk Greats
based out of the UK:
"Where Tropical Popsicle display, over a velvet sheet, an array of souvenirs from certain legendary spots along 20jazzfunkgreats favourite psychedelic route – most specifically, mementoes from the Velvet Underground's funeral of dissonance (also attended by Spacemen 3 and Suicide), skulls off the garage gothick boneyard (pumping up the bass for that extra-syrupy feel), and lumps of satanic coal such as those that power Wooden Shjips stoned locomotive. Name your price!"
Download "The Age of Attraction" over at
Urban Outfitter's New Music Mondays
.
The first in two great show reviews (this one courtesy of
A Collector's Life
) from their set last week opening up for Pains of Being Pure at Heart at the Belly Up Tavern:
The next band to play was called Tropical Popsicle. Before they even started to play I loved them for a few reasons. 1- they had a smoke machine running at full blast (this is something I love, thanks in no small part to Andrew Eldritch). 2- they moved around on stage, and they way that they did was very suited to the music that they played. 3- their singer sounded like Peter Murphy. I only took 2 pictures, but I think this one captures a lot of what their live performance was all about. And it reminds me of this picture, which I have always found to be very inspirational.
And this second show review from the great
No More Than a Big Crashing Beat
:
Tropical Popsicle - The Belly Up Tavern, Solana Beach CA 10th October 2011
Probably the biggest gig for local lads Tropical Popsicle in their brief history, supporting The Pains of Being Pure at Heart at the Belly Up for a local radio station (94.9 FM) sponsored show. Despite its faults (which I freely accept could easily just be my biases!), The Belly Up is that next stage up in size from say, The Casbah or the Soda Bar for example and although it wasn't quite full there was a decent crowd for a Monday by the end of the night. It's a bit of a drive from the hipster-heavy areas of San Diego, but the boys did not have to worry, they had plenty of friends follow them up the road and get there in time to see them despite the 9 pm kick-off. Much the same set as the last time I caught them but with the addition of one fresh tune that you can hear a studio version of here and this is a good representation of how it sounded out front. Incidentally, the sound was actually much fuller for our lads than it was for the headliners, who's lead guitar was woefully under-represented in the mix.
I think the indie world is looking for something new to latch onto at the moment after a couple of years of lo-fi and/or garage groups. I was starting to sense a movement towards pop hook-laden female-fronted post-punk bands (Bleached, Wax Idols etc.) in the offing, but it could just be that Trop Pop's melodic 80's-goth tinged gloom is just what we are looking for in these dark times. There are other groups out there that are partial to this approach too so perhaps they can form a gang with Weekend and The Soft Moon amongst others. The lyrics are not going to cheer you up much but the songs are highly danceable and maybe that's what the 99% are really after. In any event, after only a few months out there, Trop Pop have a really solid set to share with the world and if they perform it this well at the CMJ outing in New York in a couple of weeks, they are going to get plenty of interest. Just make sure you have more merch with you guys!
And a link to mp3s from their set that night, courtesy of the last site:
Set [30.05]
Intro
Always Awake in Shadows
The Age of Attraction
The Beach With No Footprints
The Tether
The Universe of God Shadow
Lunar Camel [Siouxsie & the Banshees cover]
The View from the Dihedral Wall
http://www.megaupload.com/?d=DMG46LXT
Check out some great photos of their Indigenous/Rumble showcase (in conjunction with North Park Music Thing and Volar Records) at Bar Pink back on Sept. 11 with White Fence, Davila 666, Crystal Antlers, and Too Many Wizards, courtesy of
Tank Top Diaries
.