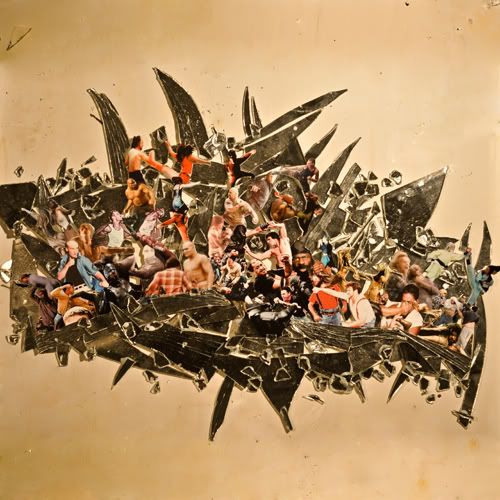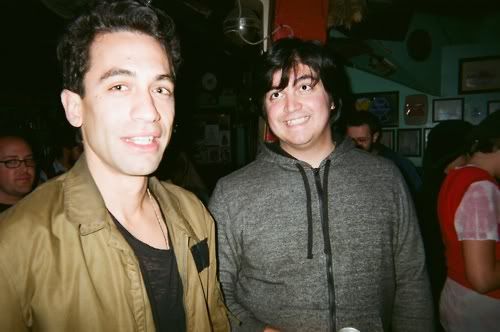 Jeremy Rojas (left) and Andrew Montoya (right)
With the end of 2011 imminent (tomorrow night!), publications and blogs and the like are all cranking out their top ten lists for 2011. Peter Holslin of the San Diego City Beat posted his list of the best local releases of 2011 just a couple of days ago, with Ale Mania's
A, Who Sings That Beat?
topping the list. Former music editor Seth Combs also had some very kind words regarding the LP back in March when it was released, and you can read both reviews below and stream and buy the album. Also, Beaters debut LP,
Fishage
, will be available in a few weeks, with a release show in early February. You can read a little bit about that as well and stream and buy the LP below.
As a note, if you haven't read before, Ale Mania and Beaters were both born out of the ashes of the Sess, one of my favorite bands in town ever. Andrew Montoya, drummer for the Sess, began recording the strange synthy-post-punk Ale Mania stuff right around the time of the former band's demise about three years ago, with Sess second guitarist/vocalist Jeremy Rojas on guitar and sometimes vox. At the same time, Rojas was branching out on his own with Beaters, a self-described "pre-apocalyptic mutant punk" project who've spent time on the road with the Soft Pack and the Obits & Disappears. When Volar started, both bands were just posting their first songs online, and considering my love for their projects and for them as dudes, it only made sense to start this endeavor together. I couldn't be prouder to be involved with Andrew and Jeremy, and here's hoping 2012 sees their projects only getting stronger.
Buy the limited edition color vinyl here:
Ale Mania--A, Who Sings That Beat? by Volar Records
Buy the limited edition color vinyl here:
Beaters--Fishage LP by Volar Records
Via
Peter Holslin's list of the five best local releases of 2011
:
"1. A, Who Sings that Beat?, Ale Mania (Volar): Some of the biggest buzz-bands in 2011 played it safe with nostalgic dance-floor fodder (Washed Out), wintry beardo ballads (Fleet Foxes) and sappy-sweet, Phil Collins-style sax solos that blurred the lines of irony and sincerity (Bon Iver, Destroyer). While some of it was undoubtedly good music, these bands also sounded rather tone deaf in the face of so much economic hardship and global protest. This year, I wanted music that was darker, more revolutionary, and I found it in this stunning album. In it, Ale Mania strikes an uneasy balance between finely honed songcraft and volatile performance, pairing deeply moving pop hooks with grimy guitars and half-yelled vocals in highlights like "Robust Universe" and "United States of Abamonation." This album is a true classic—a radioactive stain on anemic indie-music trends, it's surprising, poignant and terrifically dangerous."
And
Seth Comb's write-up of the LP back in March
:
"ALE MANIA A, Who Sings That Beat?
A little more than a year ago, just about every indie fag worth his bespectacled salt (including myself) was creaming his pants over local garage heroes Beaters and their torrid single, "Fishage." The core duo of that group (Jeremy Rojas and Andrew Montoya) made a huge buzz with their previous band, The Sess, before splintering off into Beaters and Ale Mania around 2009. But while Beaters' "Fishage" made the rounds on the blogosphere faster than news of Thom Yorke's latest bowel movement, the Montoya-fronted Ale Mania's "Rampage," released around the same time, went ignored. The promise I saw in that bass-heavy blast of garage pop extends into Ale Mania's first full-length LP. The one-two experimental punch of "Submersed Space" and "United States of Abamonation" sounds like Cryptograms-era Deerhunter, while "LustFulFistFul" and "Tetherfree" manage to finally marry new-wave and no-wave, creating a highly danceable, almost goth-rock treat. A, Who Sings That Beat?'s greatest strength, however, is how well the group balances experimentalism with pop hooks. Similar bands often try too hard to escape their influences and end up sounding so different that they lose accessibility. It's been a long road for Ale Mania, but the result is a group of mature and gifted musicians who've finally created what we all knew they had in them: a masterpiece. myspace.com/wearealemania.
—Seth Combs"
And also,
this article by Seth Combs from back in April 2009
:
The last time we sat in a room with members of The Sess they were on cloud nine. Or at least it seemed like they were.
The Sess was one of the hottest acts in the San Diego scene, and the garage-punk band seemed to be on a similar trajectory as other local acts like Crocodiles, Wavves and The Soft Pack.
But it wasn't meant to be. Mere weeks after CityBeat's August 2008 profile, in which we declared, "San Diego's most dangerous band is probably too good to last," The Sess, indeed, broke up.
Fast forward to the present. Jeremy Rojas and Andrew Montoya are sitting in the makeshift studio that Montoya built in his North Park apartment, listening to a mix of "Obamanation," a song by their new band, Beaters.
"Dissipated. Naturally. Turned into chaos like anything else in the universe," says Montoya when asked about The Sess' breakup. "Slips out of control, whether it be individually or as a whole, simultaneously."
That's about as clear an answer as you'll get about The Sess' breakup. That and, as Montoya later adds, there were just "too many dicks to last."
There's something to be said for a band that breaks up at the height of its initial buzz, but after The Sess ended, Montoya, Rojas and keyboardist Aldo Bustos kept going. Their new bands could be seen as proper solo projects, with Ale Mania being Montoya's baby. The former Sess drummer is now on bass and vocals, surrounded by guitarist Rojas, Bustos and Atoms drummer Melissa "Christy" Beats. Theirs is a rhythmic sound, with the bass and drums never letting up and Bustos' keyboards giving it all an early New Order kind of sound on tracks like "Lustful Fistful" and "Chaotic Formation."
Beaters, on the other hand, is Rojas' creative outlet, with Montoya back on drums and joined by Bustos and bassist
Craig Barclift from local punk band The Powerchords. Fans of The Sess will see similarities in Beaters, but only on the surface. The aggressiveness and pace of The Sess are still there, but the sound is more grown-up, incorporating more melody and hooks on "Fishage" and "Obamanation."
"In The Sess, Andrew wasn't a main writer of the music, but in Ale Mania he's the main writer," Rojas explains. "His musical tastes run pretty deep. But so do all of ours. We don't just sit around and listen to garage and punk all day. We listen to all kinds of shit, and we want to play all kinds of shit."
The musicians maintain that Beaters and Ale Mania are in the infancy stage, but Ale Mania's first two shows—one opening for Grand Ole Party at Soda Bar—had music geeks buzzing in the same tones as when The Sess first started playing. Rojas says Beaters will be ready to play live by late May, and both plan to put out records and singles later this year. They believe this is the real deal and that whatever The Sess was, it was all leading up to the present.
"I just like to play and write music," Montoya says. "There's really no pushiness to make this happen. Everybody shows up when they're supposed to show up because they want to do it. All I can be is stoked on that. There's still a lot of work in putting music out, but in this case, it seems to be a lot easier now than it's ever been."
"I've always compared playing music with other people to having sex," Rojas adds. "The more you know, the more you grow."