So here we are (just me, really), rounding out the year of Volar with upcoming LP releases by San Diego's Beaters and Oakland's Uzi Rash. This marks twenty-one releases on the label in a little over two years, fourteen or fifteen this year alone, which is pretty crazy. For those that don't know, this label is largely a one-man operation, mostly out-of-pocket thus far until I start getting more money in from distributors and such, and the whole running-a-business thing can be incredibly nerve-wracking (and especially tough when I'm distracted by LIFE at times), but I'm trying my best, and owe a huge debt of gratitude to my friends who've helped, to the bands I've been lucky enough to work with, to my (mostly) patient customers, fellow labels, etc. And with that all said...
VOLAR20--Uzi Rash--
I Was 30 in 2012
PREORDER LIMITED COLOR LP
I've known Uzi Rash mastermind Max Nordile for a number of years, from his appearances in San Diego with his former band, the Trashies, to my earliest experiences on tour playing with both Christmas Island and Spirit Photography, in which we frequently played alongside Uzi Rash in Oakland. Earlier this year, he was in town with UR playing with Volar labelmates/my roommate and good buddy's band Stalins of Sound, after which time, he asked about sending me a copy of his recently completed album,
I Was 30 in 2012
. A few days later, I received a CD in the mail, and knew within the first couple of listens that I had a winner on my hands. It's taken a while for this to finally come out, as I've been buried under other releases, but I'm proud to announce that Uzi Rash will be playing their record release show for the LP this coming Saturday, December 17th, and 1-2-3-4 Go! in Oakland, at which the band will have 40 limited test pressings for sale, with the official records available in a couple of weeks, and a tour in January. Peep the flyer for the show below, watch the video for "Garbageland," (which initially premiered over at the
San Francisco Bay Guardian
), and stream the entire record.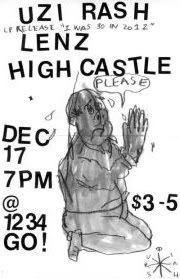 UZI RASH--I Was 30 in 2012 LP by Volar Records
VOLAR21--Beaters--
Fishage
LP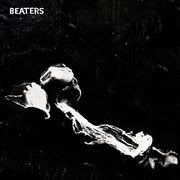 ORDER LIMITED COLOR LP
And something I'm especially proud about, the release of the
Fishage
LP by Beaters. The "Fishage" 7" was the first release on Volar over two years ago, in conjunction with Single Screen Records, and the first Beaters and Ale Mania tracks (both bands share members and formed after the unfortunate demise of my previous favorite band in San Diego, the Sess), and now the release of their first release, after a national tour last year with the Soft Pack last year, is upon us. The band is currently hard at work on their next year LP, but for now, feast yours eyes and ears below on the "Fishage" video I cut together a couple of years ago, the "White Hate" video by Beaters' main dude Jeremy Rojas and his girlfriend, Ash Eliza Smith, and stream the entire LP.
UZI RASH--I Was 30 in 2012 LP by Volar Records